The 12 LEAST contaminated fruits and vegetables, plus other ways to go organic
Over the last couple of weeks, I have been discussing the negative impact non-organic foods can have on our health. This week, I am going to share the 12 least contaminated fruits and vegetables with you, as well as other ways that you can choose to go organic.
The following are the top 12 least contaminated fruits and vegetables:
Onions
Asparagus
Sweet peas
Cabbage
Eggplant
Broccoli
Sweet potatoes
Avocado
Pineapple
Mango
Kiwi
Watermelon
Source: https://www.ewg.org/foodnews/list.php
Science can prove that non-organic food lacks nutritional value and is behind their organic counterpart. Although organic food costs more, as a long-term investment in your health, it is totally worth it.
I prefer to buy my organic fruit and vegetables at Riverford online shop – www.riverford.co.uk
If I can't peel the skin of non-organic produce, I use a fruit and vegetable spray wash, made from plants that removes wax, dirt and residue. It's available in most health food shops or online.
It's also important to remember that just because a food is organic, it doesn't make it a food for optimum health. You can still get organic processed food – junk food such as chocolate, crisps, pizzas etc. Yes, they're much better than the non-organic ones, as they do not contain toxins. But for optimal health, stick to natural ingredients and plant-based whole foods.
It's not just food that should be toxin-free but also our shampoos, soaps, shower gels, make-up, cleaning products etc.… By choosing toxin-free alternatives they will be better for your health and our environment.
There are lots of products on the market which are eco-friendly. If you are not sure what to get, you can contact me for my list of recommend eco-products that I usually buy myself.
The truth is, there is no perfect standard. But in general, organic foods are better quality than non-organic. Try to support the companies who are willing to show you their production methods and be completely transparent.
Buying locally or from a single owned organic company is your safest choice when choosing any foods including organic.
Stay healthy,
Lenka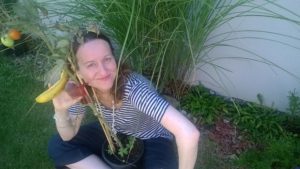 PS: I would love to hear your opinion on organic foods and other products. Please leave your comment below and let me know which products you like to use.
Next week I will post here some simple, super healthy and yummy holiday recipes. 🙂